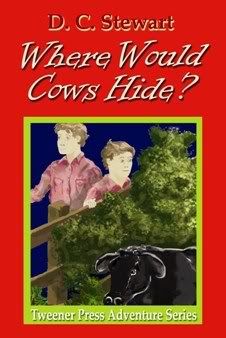 D.C. Stewart
grew up in a small town in Oklahoma, and spent most of her childhood getting into trouble with her younger brother on their ranch. She began writing short stories in high school, and won a writing competition at a nearby college at age 17. After graduating, she attended Northwestern Oklahoma State University and earned a degree in History, and also met her husband, Scott. She worked for a church in Maumelle, Arkansas as the Communications Coordinator for five years. After moving back to Oklahoma, she chose to stay home with their four year old twin boys, and six month old baby girl, and to pursue her dream of being a full-time writer. The Stewart's live in Oklahoma City, Oklahoma.
Where Would Cows Hide?
is her first novel.
*SUPER GIVEAWAY: Denice is featuring a super-giveaway to 1 lucky blog commenter. At the end of the blog tour, the Grand Prize Winner will get: a gift basket with more tweener books and goodies.
WAYS TO WIN
Author D.C. Stewart is giving you a chance to win a copy of WHERE WOULD COWS HIDE?, and more! Here's how to enter for a copy of WWCH and to enter the grand prize drawing:
1) leave a comment on this blog post (or on any of the blogs participating in the blog tour);
2) email the contest coordinator at
contest@novelinspirations.com
with subject line "WWCH ENTRY";
3) join D.C. Stewart's ezine list by either sending a blank email to:
dcstewart_ezine-subscribe@yahoogroups.com
or visiting
http://groups.yahoo.com/group/dcstewart_ezine/
and subscribing through the yahoogroups page.
Book winners and the GRAND PRIZE WINNER will be drawn on or before May 31st, 2008 and will be notified by email. Please make sure you leave a valid email address on applicable blog posts.

An interview with D.C. Stewart:
MC: The title "Where Would Cows Hide?" is one of those that catches you
and make you go, "wait, what?". Where were you and what were you
doing, when you came up with the idea of missing cows?
DS: The idea of "missing cows" is actually sort of a true story. My parent's ranch is located 5-10 miles from the nearest town, and they don't live on the land there. They live in town. But someone was really stealing their cattle, late at night, by loading anything they could catch into a trailer and hauling them to an auction in Oklahoma City. Several ranchers in the area were hit, and the thieves were caught at the auction after the county sheriff notified the people who ran the auction which cattle brands to look for.
MC: At the between age, it is often difficult to find books that you can
relate to their plot and characters, what made you choose twin boys
and make the sister the odd one instead of girls with an annoying
brother?
DS: Well, I have 4 year old twins and my husband is a twin, so the idea of twins came pretty naturally. And I chose to write from the boys perspective because I was a tomboy growing up. Still am, to a certain degree. I could just relate better to what the boys would think in certain situations, and having a little sister always getting in the way made sense to me, even though I only have a little brother.
MC: Today with video games, and television it seems that less children
and adults read. How important do you believe the task of getting the
tween-age group back into a love of books is in our society?
DS: That is probably my number one focus when I write a book. How do I compete with video games and television? To have well rounded, well educated individuals they need to be well read. Books offer soooo much more than TV ever can, and when I write, I try to pack all the emotion, action, and excitement into the book I possibly can. I firmly believe books take you places video games and movies could never go.
MC:What are your thoughts on the saying of C.S. Lewis that, "Any
children's book that's not worth reading as an adult isn't worth
reading as a child either." ? Would you then say that even though
your books are labeled YA, they are suitable for everyone's enjoyment?
DS: Absolutely. I want parents/grandparents, to be able to pick up the book and cringe at the situations the characters are in while remembering the trouble they got into as kids themselves.
MC: What is the main theme and idea that you want readers to walk away
from your book with?
DS: If you're going to have an adventure, have it with God. The faith journey is the greatest adventure of anyone's life. Embrace the journey and enjoy it.
MC: Thank you for sharing words and time!
MJ


DS: Thank you for having me as a guest on your blog. It's been a pleasure.
D.C. Stewart
My Thoughts:
This book was quite the adventure for the entire Parker family, but especially for twin brothers Charlie and Brad. For a tweener novel, this book is great. For an adult, it is also interesting and entertaining. The end of the book held me in such suspense that I just could not figure what would happen next! I'm excited about the prospect of reading other novels by D.C. Stewart and recommend her books for others to read as well. This story would be enjoyed by girls and guys alike. Read it, and let me know what you think!!

-MJ

You'll also find reviews, fun banners, and more cool stuff along the way. Join us for the WHERE WOULD COWS HIDE? blog tour at these blogs:
April 15, 2008 : Lacy Williams at
http://www.novelinspirations.com
April 16, 2008 : Donna Moore at
http://writebyfaith.blogspot.com
April 17, 2008 : Carolyn Strawder at
http://www.quiettimewithcarolyn.com/Serenity
April 18, 2008 : Margaret Daley at
http://margaretdaley.blogspot.com/
April 19, 2008 : Debbie Archer at
http://debbiearcher.blogspot.com
April 20, 2008 : Brittanie Terrell at
http://abookloverforever.blogspot.com
April 21, 2008 : Gina Conroy at
http://portraitofawriter.ginaconroy.com
http://ginawrites.ginaconroy.com
http://writerinterrupted.com
April 22, 2008 : Justin Boyer at
http://fantastyfreak.blogspot.com
April 23, 2008 : Charlotte Schofield at
http://burnforgod.blogspot.com/
April 24, 2008 : LaShaunda Hoffman at
http://lashaunda.blogspot.com, http://blog.myspace.com/lchoffman
April 25, 2008 : Jenny at
http://ausjenny.blogspot.com/
April 26, 2008 : Laura Williams at
http://laurawilliamsmusings.blogspot.com/
April 27, 2008 : Mrs. Margaret Chind at
http://cherryblossommj.blogspot.com
April 28, 2008 : Antionette V. Lee at
http://tonivlee.blogspot.com
April 29, 2008 : Myra Johnson at
http://myra.typepad.com/randomly_/
April 30, 2008 : Laura Hilton at
http://www.shoutlife.com/laurahilton
http://www.myspace.com/lightboat
http://lighthouse-academy.blogspot.com/
May 1, 2008 : Leslie Sowell at
http://footprintsinthesand.us/blog
May 2, 2008 : Kathy Brasby at
http://sunballo.blogspot.com
May 3, 2008 : Camy Tang at
http://www.camys-loft.blogspot.com/
May 4, 2008 : Karla Cook at
http://ramblinroadstoeverywhere.blogspot.com
May 5, 2008 : Carla Stewart at
http://www.carlastewart.blogspot.com/
May 6, 2008 : Pamela Morrison at
http://daysongreflections.com
May 7, 2008 : Ashley at
http://www.homeschoolblogger.com/01charger
May 8, 2008 : Kim Ford at
http://berlysue.blogspot.com
May 9, 2008 : Christa Allen at
http://www.cballan.wordpress.com/
May 10, 2008 : Heather Thomas at
http://misadventuresofthedynamicuno.blogspot.com
May 11, 2008 : Deena Peterson at
http://deenasbooks.blogspot.com/
May 12, 2008 : Michelle Kralicek at
http://michellesgreatblogs.blogspot.com/
May 13, 2008 : Leah Sande at
http://ponderingsfrommyheart.blogspot.com/
May 14, 2008 : Rachelle Arlin Credo at
http://zyphe.blogspot.com
May 15, 2008 : Amy Lathrop at
http://sprightly-amyanne.blogspot.com
May 16, 2008 : Janna Ryan at
www.cornhuskeracademy.blogspot.com
May 17, 2008 : Kristy Walker at
http://ineedtoread.blogspot.com/
May 18, 2008 : Amy Riley at
http://thefriendlybooknook.com
May 19, 2008 : Mimi Baker at
http://www.wovenbywords.blogspot.com
May 20, 2008 : Kathie Nolasco at
http://takingastroll.blogspot.com
May 21, 2008 : Julia Graham at
http://www.reviewzbyjewelz.blogspot.com
May 22, 2008 : Ashley Rutherford at
http://godslightuponme.blogspot.com