I was over at Books for the Holidays...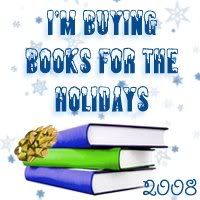 ...and I was checking out the latest post about "our own" lists. I had never thought to share that...

It is kinda funny actually, next Tuesday is my birthday and I have been trying to figure out what I really want. I just keep thinking about books! I have so many that I'm blessed with through reviews and such, but there are still so many others that I want. Then there are the quilts, I have so many quilt kits that I'm working on that it's ridiculous and I really should not acquire any more until I have completed some of these, but there are just so many cute and pretty ones out there that just scream cozy at me! Then there are the cross stitch kits... I have been pretty good about not getting any of those lately, but then my sister goes and gets pregnant again and I am off to the store to get a cross stitch quilt kit, but can I stop with just the one?!? Of course not! Too many others were on sale or calling my name. *sigh*

One of the absolute best things about my house is the surprise Quilting Den. The official name of my bonus room is the "Quilting Den". My mama came up with that. It covers both the quilts and the reading part. *grin* Well... when we were looking at the house we knew it was four bedrooms. Master on bottom and three on top.. It was not until we were in the house and walking up the stairs and we were like "huh? There are five doors..." Well!!! Three bedrooms, one bathroom and a HUGE bonus room!! MINE MINE MINE MINE MINE! *snicker*

At least DH does not have to look at fabric and books all over the place. I'm relatively cleaned up, nothing crosses the threshold and that works for me. (Quilt planning can get a little hectic...)

So... I'm always open for cross stitch quilts, especially if they include quilts.. Then quilt kits... I'm such a sucker... and about books... well I'll share a more specific list....

Alaskan Quest Series (1-3) by Tracie Peterson
Fountain Creek Chronicles (1-3) by Tamera Alexander (Love Tammy!!)
New Women's Devotional Bible (Zondervan)
True Identity: Becoming who you are in Christ
NCV The Becoming Devotional Bible
SummerHill's Secrets (Five in One, Volumes I & II) by Beverly Lewis
The Watchers by Mark Andrew Olsen
To Catch a Thief (#1 & 2) by Jill Elizabeth Nelson
Before Green Gables by Budge Wilson
The Road to Cana by Anne Rice
The Mandie Collections (Omnibus editions Vol 1-4) by Lois Gladys Leppard
Lady Trent Mystery Series (1 & 2) by Gilbert Morris
Summerfield Trilogy by Kim Vogel Sawyer
Texas Angel 2-in-1 by Judith Pella
The Courtship of the Vicar's Daughter by Lawana Blackwell
The Dowry of Miss Lydia Clark by Lawana Blackwell
An Uncertain Dream by Judith Miller
The Mountain Song Legacy (1 & 2) by BJ Hoff
DragonFire by Donita K. Paul
Extracting the Precious from Galations by Donna Partow
Extracting the Precious from Nehemiah by Donna Partow
As High as the Heavens by Kathleen Morgan
The Brides of Webster County by Wanda Brunstetter
The Silk House Series by Linda Lee Chaikin
The Trophy Wives Club by Kristin Billerbeck
Defiant Heart by Tracey Bateman
Wedding Bell Blues by Linda Windsor
NKJV Chronological Study Bible
Holly's Heart (Omnibus Volumes 1-3) by Beverly Lewis
In the Shadow of the Sun King by Golden Keys Parson
The Pattern of Her Heart (Lights of Lowell #3) by Tracie Peterson
Nosy in Nebraska by Mary Connealy
Buffalo Gal by Mary Connealy
Beloved Castaway by Kathleen Y'Barbo
The Red Siren by MaryLu Tyndall
Appomattox Saga Book #2 by Gilbert Morris
Albis in Arkansas by Christine Lynxwiler, Sandy Gaskin, and Jan Reynolds
(The Lost Books of History Chronicles) Infidel, Chaos, and Renegade by Ted Dekker
Showdown, Sinner, and Saint by Ted Dekker
The Host by Stephenie Meyer
Silent in the Grave, Silent in the Sanctuary, and Silent on the Moor by Deanna Raybourn
The One Year Bible for Women TuTone
The Tales of Beedle the Bard by JK Rowling
The One Year Book of Psalms by William Petersen and Randy Petersen
The Hand the Bears the Sword and Vast Dominion by George Bryan Polivka
When the Heart Cries by Cindy Woodsmall

Okay, now for an explination. My favorite types of books are historical fiction, mostly Christian, but not always limited to that. I'm not sure out of last year from my sister that I have gotten books as gifts... which is odd considering how much of a book junkie I am. I love books. I would love to receive any and everything as a gift. I always keep my goodreads profile update with what I own and I even have a "to-own" list so people could know what I really want. LOL www.goodreads.com/profile/cherryblossommj

Most of these books make it on my wishlist because either I read them from the library and I'm dying to have them for my permanent shelves, or it finishes off a series I'm holding on to, or I just plain love everything by the author.

Oh, and I'm always looking for a good vegetarian cookbook to find some creative ways to add veggies into our meals...

Oh, and I'm looking also at those devotionals that deal with good books like: Walking with Bilbo or Walking with Frodo by Sarah Arthur, or The Gospel According to Tolkien by Ralph Wood, and so on...

I'm sure I'll also think of a million more things to say as soon I press Publish...