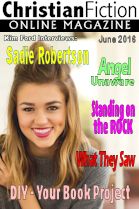 Have you read the CFOM yet? If not, you should. Every month Michelle Sutton and a palm full of other fabulous people bring together an incredible collaboration of material for fascinating articles on the Christian Fiction world, blogging and otherwise. I love to read it every month, and this month, I'm quite partial...

There is a new column, the "Publisher's Choice" column, and the writer this month is none other than your Creative Madness host, ME!!! So cool!! Sorry, I'll be calm... Maybe. *snicker* But that's not all this month you can also find articles from my bestest blog buddy Deena Peterson from A Peak at my Bookshelf as well as my closest-distance blog buddy from near to my childhood home Nora from Finding Hope Through Fiction.



But that's not all that you'll find there this month, there is so much more!! Go see...