Today, I received the neatest baby product yet! I am so excited to be able to use this with my AppleBlossom, but I could not wait until her arrival to share it with you all. Now, I present to you, The Baby Lua from Dittany Baby.


With cotton on one side and flannel on the other, not only is The Baby Lua attractive, but it is soft as anything to boot! The fabrics available are all gorgeous and functional that choosing which pattern you want is one of the most difficult parts of picking out your product.
The Baby Lua is a "Must Have" for any baby on-the-go. The Baby Lua™, quick convenient coverage for your car seat. So easy to use; just toss it over the top for instant protection without the difficult and time consuming elastic, ties an snaps. The unique elastic opening allows your arm to fit comfortably under the handle and features a strap to sinch closed for more privacy, The Baby Lua's versatile design even allows for use as a poncho style nursing cover, a changing mat and even a blanket. It doesn't matter if you're looking for sun protection, rain protection or you've got the paparazzi hot on your trail we've got you covered; literally. The Baby Lua comes in Everyday Cottons, Luxe Minky, Cozy Fleece and Water Resistant materials.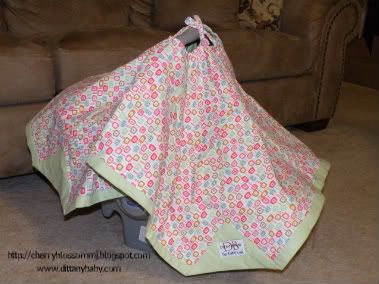 The fit over my car seat is absolutely perfect (Graco SnugRide 32) and it took a matter of seconds to place it over including arranging it for photos *grin*. It really could not be more simple to use. Easily it can block the chill or the sun depending on the weather. And just looking at it I can imagine more uses suggested such as a nursing cover, changing pad, or even just blanket.
I am highly impressed with this product and I strongly suggest you go check out Dittany Baby to see about ordering your own of The Baby Lua as well as see what else they have to show. I know that I personally am impatiently waiting until they have some of their SkidPants(Leg Warmers) available in the Georgia Tech fabrics with a coordinating tutu!!
And just because I love my readers so much
, enjoy these great savings!!
Take 10% off a $20.00 order
use coupon code 10off20
Take 20% off a $50.00 order
use coupon code 20off50
Take 35% off a $100.00 order
use coupon code 35off100