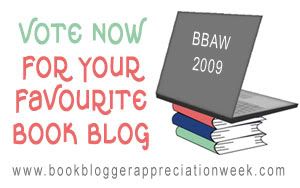 I could not be more ecstatic!!

Creative Madness that Makes Me Myself

has been nominated in four different categories for 2009 Book Blogger Appreciation Week Awards. Last year I watched all the excitement from the sidelines imagining what it would be like to get a nomination or have so many people find my blog read-worthy. Well I'm so excited to be a part of this year and cannot wait to find more kindred spirit blogs!!
The categories for nomination of Creative Madness are:



Best General Review Blog

– This blog doesn't specialize in any one book genre, but it's still excellent. Their book reviews usually cause you to add one more book to the TBR pile.



Best Reviews

– Book reviews are the heart and soul of book blogging, and this blog is the cream of the crop - consistently well-written, entertaining and informative reviews are a staple on this blog.



Best Spiritual/Inspirational or Religious Book Review Blog

– This blog features the best reviews and specialized content on the books and authors that address a life of faith.



Most Concise

– This blog gets its point across clearly and efficiently - it tells you just what you need to know.



There are so many good blogs out there that I am doubtful to win, but just to be nominated is completely awesome to me. Thanks to whoever nominated me!! It's a blessing!
For more information on the BBAW 2009, click
here
! Thanks to Amy from My Friend Amy for founding the BBAWs and for all of devotion the book blogging community!