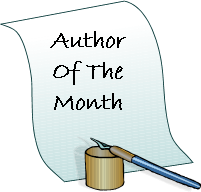 Each month Deena will select an author she absolutely adores and believes in. One who isn't a household name like Karen Kingsbury or Jerry B. Jenkins...but who should be. An author who's books may be overshadowed in the huge publishing marketplace, and who's deserving of a peek...a glance...a purchase.

Each month, she'll have reviews, trivia contests, prizes, memes, and interviews...
maybe even a guest blog by the featured author.