I'm not sure if it counts as being redesigned when this is my first real custom design, but I guess it does if you count that two toned blogger "thing" I was before. Now, I've been redesigned!!! I wanted to look a little more professional and to be taken a little more seriously. I needed my blog to be more than just two colors. I needed to embody me and who I am. I'm a complete book-a-holic or bibliophile that quilts when the urge hits and I'm always striving to find that relaxation time and space. Genealogy is a passion, and historical fiction is my favorite, and most importantly I'm a "fisher-of-men" through my buddy and savior Jesus Christ. My Creative Madness is who I am, and now it is finally visualized by the help of an incredible woman, Summer.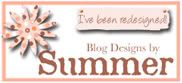 She has fully impressed me! Go check out her stuff and see how she can impress you! Btw, check out my cool button (previous post)!!! You can get the html code for it, over there on the right, up top. How cool is that!!?!

So excited. My Creative Madness is real and live. :)

So what do you think? It is me? Does it embody what it should? What's the feel you get? Any opinions out there?